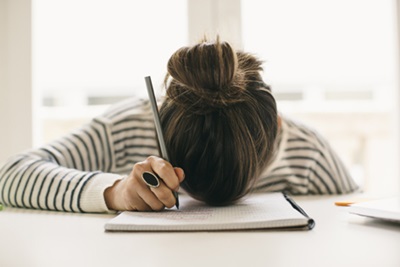 Writer's block is often caused by clashing of our feelings, where the author experiences a creative slowdown. We know what we have to say but we are afraid that it won't measure up to our expectations or to our readers' expectations. But hey, writer's block is better than to give up completely, right?
It happens to every writer and at various stages.  For me, it's like a common cold and cough. It comes and goes. Sometimes it takes up to 3 months, but I don't take it hard on myself because I know I will pick up from where I left. I tell myself, when we have caught cold, we do relax right?
Here are some tips to do while you are on writer's block:
Enjoy reading books with a cup of coffee, tea or your favorite drink.
Watch a lot of movies, get yourself wrapped up and cosy, turn on some inspirational movies.
Write anything, even something that doesn't make sense, don't stop writing.
Watch movie/ book trailers that are somehow similar to your story concept. Those little trailers will give you new ideas. And you will also get to know if there's something similar out there.
Share your story ideas with someone close to you, they'll give you a lot advices, now it's upto you if you want to work on it or not, or get a new idea from it.
Keep a notebook handy at all times so you can jot down all of your brilliant ideas. I usually save my ideas in drafts of my email.
Closely observe around you. The people and activities that surround you will provide you with great inspiration for characters, plots and scenes.
Let go of your inner editor. Sometimes we are just stuck because we are not going with the flow, but we need a rough draft.
Most of the times we come up with new ideas while writing and we assume it disturbs our plot, but let it be, see if it fits in at all? Don't stop there. It might be your angel, making your plot better.
Never be afraid of failure. Writing a paragraph is an achievement in itself.
Say it aloud whenever you feel low, "I'm a writer. And one day I will hit the best selling list."
Close your eyes and imagine your characters, just like when you are day dreaming.